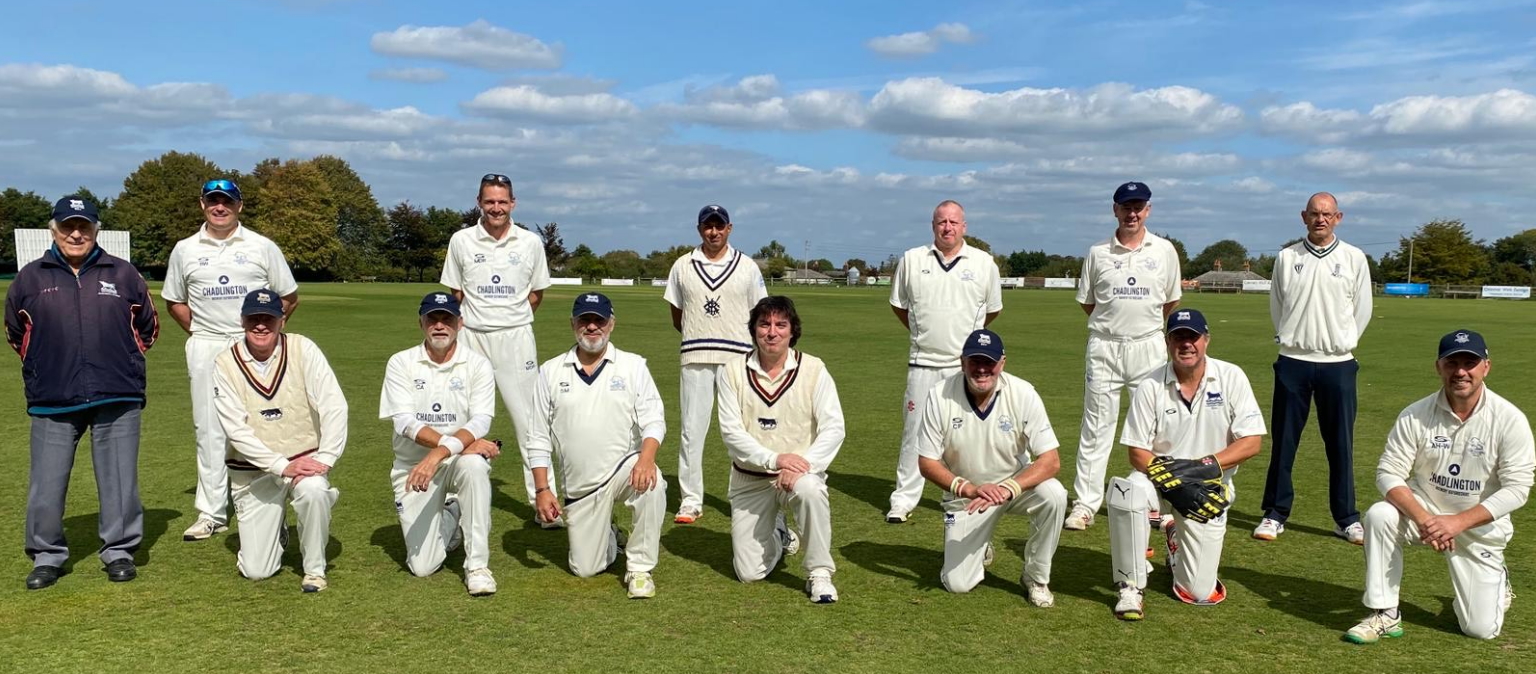 In the autumn of 1985, the OCCA finally agreed to enter Oxon into the ECB national 50+County Championship, Derek Primett and Bob Boyles were charged with setting it up, Derek as captain and Bob as an assistant.
The first fixture was against Berkshire at Kidmore End, on 12th June 1986, Berkshire had been in the competition since 1983, 40 overs and no circles, Oxfordshire lost in the last over.
Eventually, the rules were updated, and 45 overs and circles were introduced.
Oxfordshire began to find some form and reached their first Quarter-Final against Lancashire at Urmston, losing a tight match.
Major progress was made when Andrew Wingfield Digby was appointed captain, as previously stated during his 7 years in charge we won 82 percent of our matches involving 2 finals and 2 Semi-finals.
We were the only representative Oxon team at the time to have won a National title outright since Oxon won the Minor Counties.
At Lords in September 2000, a day that everyone there will never forget, we, at last, made Derek's dream come true, the win was dedicated to him by the captain on the ground at Lords.
Growth in interest in seniors' cricket both nationally and locally is enormous
Oxon at present field the following Xl s: 1 X1 50+ A., 2 X1 50+ B. 3X1 50+ C
Derek would be delighted that some 130 Players have had the chance to pull on an Oxon 50+ A shirt with many more with the B and C teams. 
The B Team, under the guidance of Ross Buchanan, have achieved 5 finals in 7 years having won 4 of them, missing out in the plate competition in the semi-final in 2022.
The C team in their first two years reached and won the final of the Chris Bishop Trophy in 2020 & 2021, and in 2022 reached the final yet again but this time narrowly missed out on the title in a hard-fought game with Wales.
The group is always looking for sponsors as the amount to stage a game is increasing.
A membership package is available here: https://www.oxfordshire.cricket/contact/membership (players must be a paid up member to be selected for any team)
This provides our senior members with more benefits but this will go a long way in sustaining seniors' cricket for many years to come especially as to stage all our matches with escalating costs of grounds, balls, umpires, and scorers. 
Darryl Woods is now the Seniors Chairman who reports to Oxfordshire Cricket at regular board meetings and the committee consists of the people mentioned below with their contact detail also shown.
Contact information:
Chairman:
Darryl Woods                 
07879 422989
Treasurer:
Steve Kelly
07445 649861
stephen.kelly22@btopenworld.com
Secretary:
Lesley Pykett
07762 572558 lpykett@oxoncb.com
Committee:
Ross Buchanan            
07836 565912
 Brian Griffiths
07791 124350 bgriffiths123@btinternet.com
 David Warner
07887 823890 david.warner@agilent.com
 Neil Harris
07840 552065 Neilharris5732@btinternet.com
Co-opted     
Simon Brown
07880 730827 freelandcc.u11@gmail.com
Co-opted     
Andy Slater
07825 685960 andyslater2019@gmail.com
If anyone is interested in playing seniors cricket for Oxfordshire and is 49 years old or above please make contact with the people below:
50As: Contact:
Darryl Woods           
07879 422989 dwoods@oxoncb.com
50As; Capt:
Mark Robey
07572 545386 robeymark118@yahoo.co.uk
50Bs:  Contact:
Ross Buchanan
07836 565912
50Cs: Contact:
Ross Buchanan
07836 565912 ross@buchanan-lighting.co.uk
50Cs: Capt:
Andy Slater
07825 685960 andyslater2019@gmail.com
 Full and Non Voting Membership     Offering Summary is as shown below
The New Membership Subscription Package will include the below. The year will run from January 1st to December 31st of each year. In order to receive full benefits, payment should be made by the 31st of January each year. 

Membership Package
 

Senior Full

Membership

Senior Non Voting Membership

 
 
 
 
 

Annual Price

£30

£20

 
 
 
 
 

Attend and Vote at AGM

Yes

Can attend but have No Voting Rights

 
 
 
 
 

Liability of Insolvency

(Full members are committed to paying £10 in the unlikely event that the OCB becomes insolvent.)

None

 
 
 
 
 

Attend Members Meeting/Forum




Attend 3 meetings a year, and have your say!

Yes

Yes

 
 
 
 
 

Free Match Attendance




Gain free entry to all Oxfordshire home matches 

Yes

Yes, except the showcase fixture

 
 
 
 
 

Showcase Fixture 




Opportunity to attend and sit in a designated members area during the match.

Free attendance

No.

Purchasable Ticket Needed

 
 
 
 
 

Live Stream Access




County Men, County Women, ECB Competition Age Groups, and some Age Group Tours. 

Live Stream Passes

Pay to View

 
 
 
 
 

Online Meetings and Webinars




Opportunity to Attend and Access Online Members Meetings, Webinars and Workshops. 

Yes

Yes

 
 
 
 
 

Podcasts




Access to our Free Hit Cricket podcasts

Yes

Yes

 
 
 
 
 

Offerings and Discounts




Offers and Discounts from a range of our partners and sponsors. 




Sussex CCC – 




10% off Online Retail Purchases from their store. 




Youth Membership £7

Junior Membership £1




Talks to resume with Mark in Spring around Royal London Tickets, Personalise Message from Senior Player.










*We will continue to improve our offerings. 





Full details TBC

Yes

None

 
 
 
 
 

Dedicated Point of Contact




Point of Contact – Marketing & Commercial Manager

Yes

Yes

 
 
 
 
 

Free Annual Handbook and Access to E Magazine 




A free hard copy of Oxfordshire Cricket's annual handbook. 




E Magazine Three Times 

Per Year




Exclusive magazine for members, covering all aspects of Oxfordshire Cricket.

Yes

Electronic Copy

 
 
 
 
 

Discounted Rates to Exclusive Events




Discounted rates to exclusive events such as the evening before the showcase fixture, golf days and members lunches. 




Members lunches – invitation to at least one members lunch per year, usually held during an NCCA fixture.





Yes

No

 
 
 
 
 

Annual Prizes and Raffles




Opportunity to win prizes and raffles such as free tickets to an England match, T20 Blast and the Hundred.  

Yes

No

 
 
 
 
 

Access to Oxfordshire Cricket Media and Communications




Website

Newsletter

Social Media

Yes

Yes