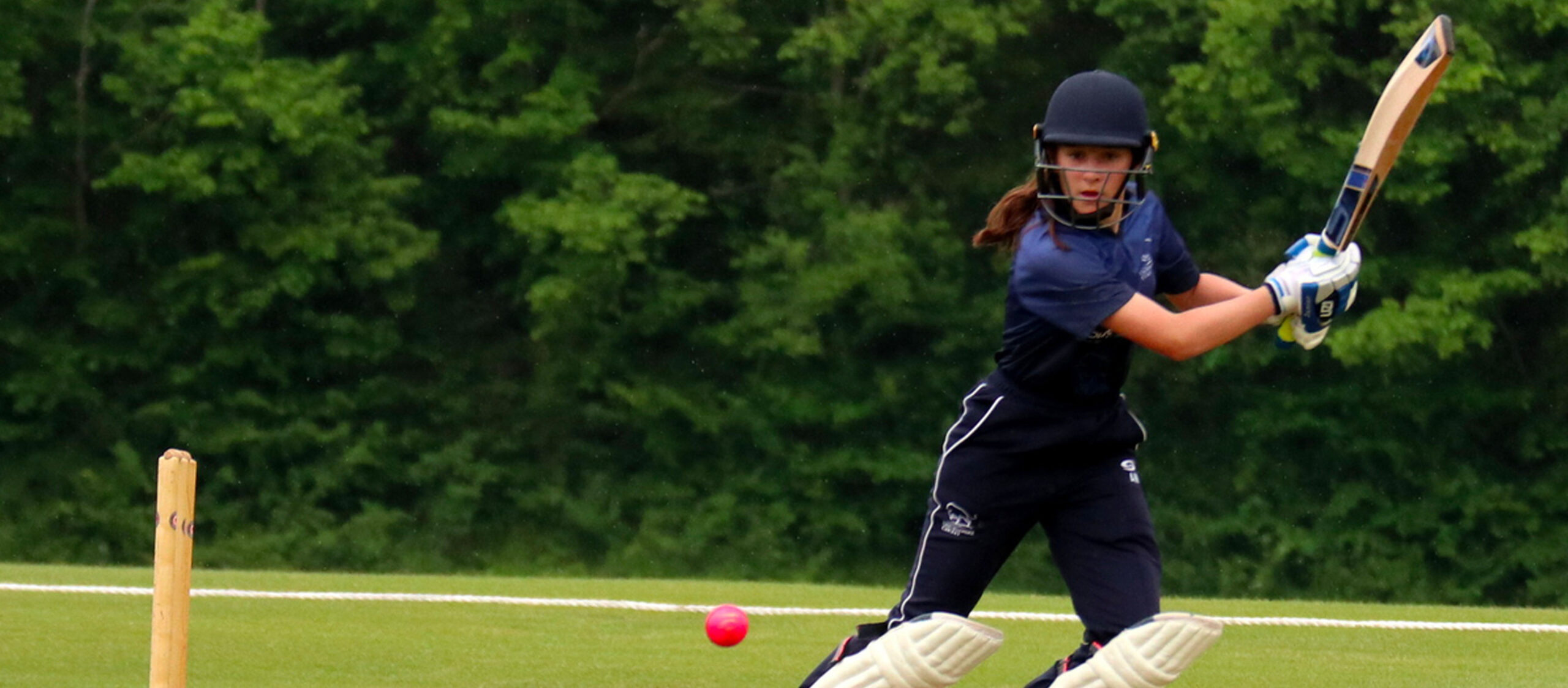 Outcome: To develop skilled players, who can find solutions and produce performances that influence all formats of the game, across multi-disciplines.
Please watch this video that gives a brief overview of what Phase 3 looks like for 2022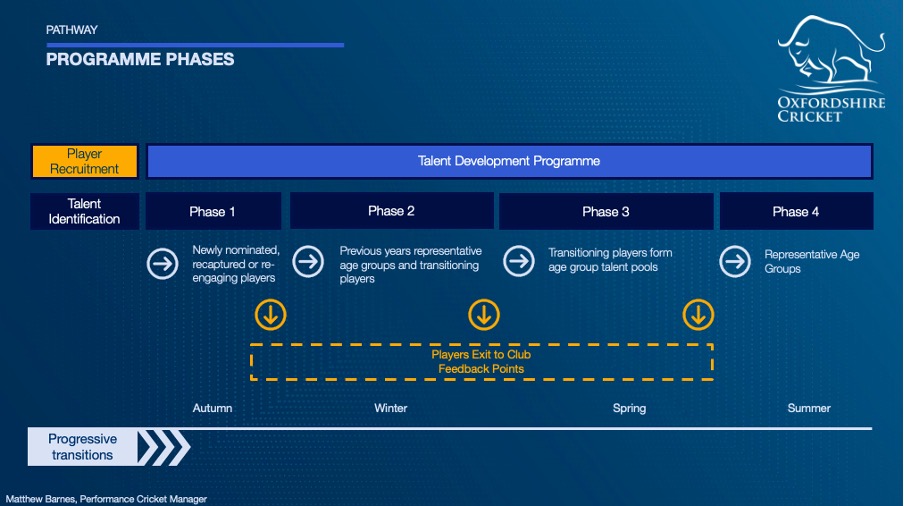 In recognition of the complex and dynamic nature of talent development and the difficulty in making talent selection decisions, we structure our programme to include multiple phases. Through these phases of activity we provide extended development opportunities via training, with the period of time assisting the identification, confirmation and selection of talent.
Within an annual programme we develop a significant number of Girls and Boys, with the number of players in the talent pool increasing or decreasing in size as we transition between the phases of development and from autumn through into the summer each year. Within each phase our players benefit from time investment, access to coaching in specific training or competition environments and support in their pursuit of both performance improvements and selection for age groups squads.
The meteorological seasons do not afford us the opportunity to deliver each phase of the programme outdoors in game situations. Constrained to delivering a large proportion of our programme indoors, we utilise our available resources to create representative practise environments. As we approach the third phase we are developing an identified pool of talent within each age group and seek to deliver the programme across multiple environments, so that talent selection decisions can be made considering information from indoor training and outdoor environments closer to the game itself. At the conclusion of the third phase we have identified a number of players to be selected to represent our age group squads within the summer programme.
All of our players enter into, transition between or exit from the pathway at various time points with the development journey between phases highlighted below.
Phase 1 – Newly nominated, recaptured or re-engaging players
Phase 2 – Previous years representative age groups and transitioning players
Phase 3 – Transitioning players to form age group talent pools
Phase 4 – Representative age groups
The aspiration is that the experiences afforded within the programme will foster a lifelong connection with the game and that the developmental journey will support each player to fulfil their ambitions and help them to thrive within local, representative or professional cricket.
Our Pathway is a predominantly self-funded talent development programme and there is subsequently a charge per player, per phase to participate. The player charge per phase contributes to various costs associated with the Pathway, including facility hire, coaching and staffing costs, equipment and administration.
WINTER PROGRAMME
We provide extended development opportunities through the winter that are appropriate to the age and stage of development, with the frequency and volume of training sessions specific to the phase of the and size of the total talent pool in the programme.
We deliver a localised programme that takes place at a range of locations and facilities in the county, selecting venues that enhance the environments, opportunities and experiences that we can provide. We scheduled a high percentage of sessions back-to-back to achieve the delivery of consistent talent development environments across the age groups and to make best use of coaching resources. We deliberately schedule activity across multiple days and at differing venues to offer best fit options for our talent pool, building in flexibility to support dual aspirations, such as participation in other sports and the fulfilment of academic commitments and
Within the foundation phase invited or selected players are able to attend an available session of their choosing at each phase through the winter programme with the talent phase beginning with the same process, but adopting a targeted approach as we progress through the phases where we select players to attend specific age group sessions that are appropriate to their stage of development.
SUMMER PROGRAMME
We provide opportunities through the summer that are appropriate to the age and stage of development, with the type, format and volume of opportunities specifically suited to the phase of development. The summer programme consists of the appropriate diet of practise and coached fixtures, internal and external competition and touring opportunities for select age groups.
We adopt a more localised offering within the foundation phase, weighted with internal fixtures and progress through to a broader, more extended offering with the talent phase, weighted with external fixtures and the added layer of ECB national competitions for the Girls Under 15 and 18 and the Boys Under 14,15 and 18 age groups.
TOURS & FESTIVALS
Tours and Festivals are enjoyable experiences that provide multiple developmental opportunities for our players. We aim to foster the personal and performance benefits of touring by presenting equal and fair opportunities for players to play and by ensuring that team selections and playing roles are rotated throughout the festivals.
Select County and Development squads from Foundation Phase of the Pathway, alongside the Boys Under 13 and 14 age groups attend a tour or festival during the summer programme. subject to a space being available at a festival which is safe, suitable and challenging for age and stage of development.