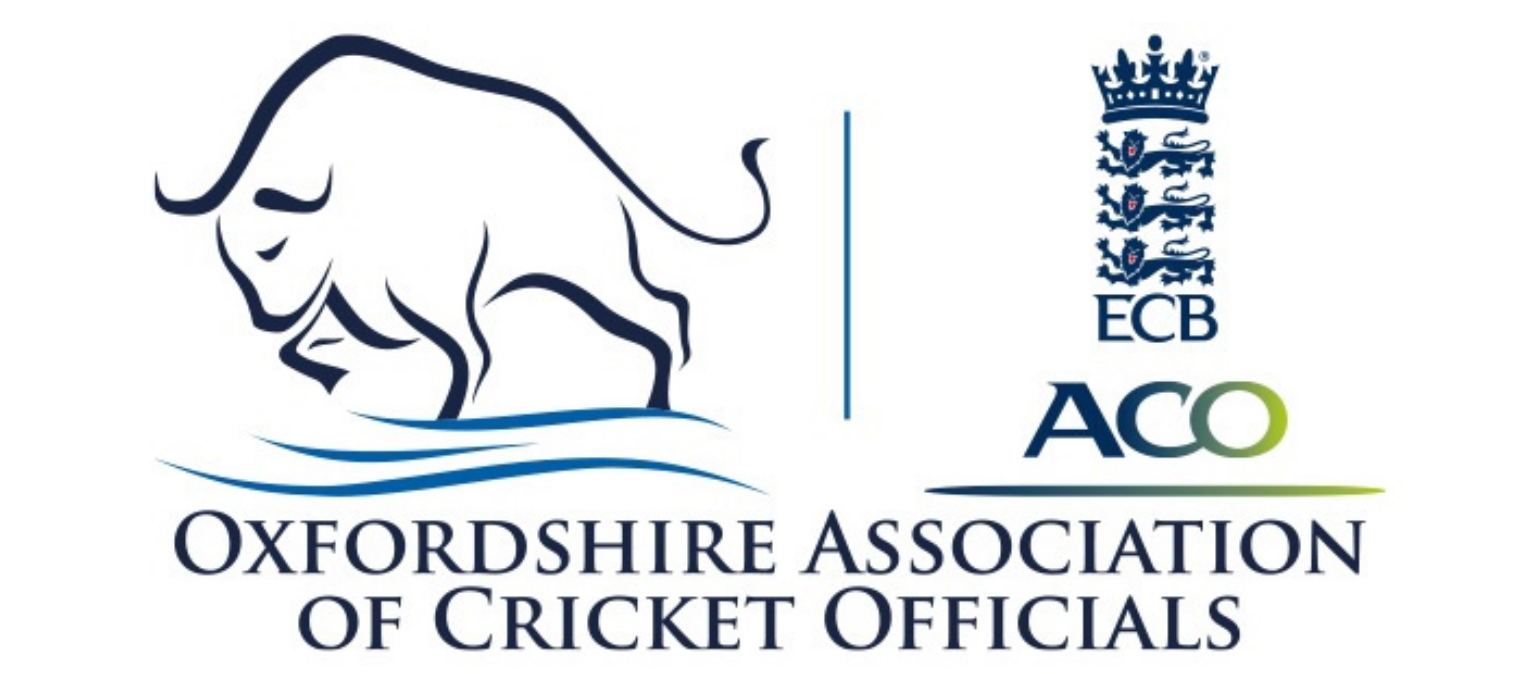 Oxfordshire Association of Cricket Officials (Umpires and Scorers)
The ECB Association of Cricket Officials (ACO) represents scorers and umpires for and on behalf of the national governing body, the England and Wales Cricket Board (ECB) and the Oxfordshire Association is your local branch of that organisation and is a link in the chain from the ECB to individual members in the County
ECB ACO is a membership organisation responsible for the training, development and appointment of cricket officials.
As well as providing a fun, rewarding way to engage with the sport, training as an official is a great way to support the health of the game. You don't need any previous experience or qualifications – just a willingness to learn. Whatever level you aspire to, whatever pace you wish to learn at, our Education Programme has a pathway for you.
For more information please contact any of the following:
Oxfordshire ACO Secretary
Umpire Training and Development
Scorer Training and Development
Information about the national body and Membership application forms can be found at:
https://www.ecb.co.uk/be-involved/officials
https://www.ecb.co.uk/be-involved/officials/join
Claim Form
Please click on the link below for a copy of the latest version of the Officials Expenses Claim Form.
Please send completed forms to the Treasurer of OACO, Andy Scarlett oacotreasurer@gmail.com
Expenses Claim – Officials 2021
Courses
ECB ACO have put together a flexible learning pathway that you can work through at your own pace with support from local officials where needed.
Umpires' Courses:
Basics of Umpiring – Online only – free to register:
Are you required to umpire for 5 or 10 overs at the weekend? Are you confident in the white coat? If not, this resource is for you…
The 'Basics of Umpiring Resource' contains the umpiring basics ranging from the key Laws to basic field craft. Use this resource as you wish, view it once or return frequently to refresh your knowledge. This resource is free for you to improve the game day experience for yourselves, your teammates and your opposition!
Umpire Introductory – presented at club level by local tutors:
This short 2-4 hour standalone course will give any cricket enthusiast curious about becoming an umpire a taste for what the role entails, and outline what lies ahead if you would like to pursue your interest.
Contact Oxfordshire ACO to arrange a course at your club.
Umpire Stage One – available as Face to Face or Online training
This course is designed to give you an overview of the basic Laws of the game and how to apply them and introduce the principles of field craft and match management. It will give you the tools to enable you to umpire matches at the basic recreational level where there are no independent umpires appointed.
Watch for adverts locally for Face to Face courses or register for free online course at:
https://booking.ecb.co.uk/d/r7qw03
Umpire Stage Two – available as Face to Face or Blended Learning (Online with tutor led sessions):
This course is designed to give you further knowledge and skills sufficient to enable you to become a member of a league panel and is available to anyone who has attended the Stage One. It will complement that course by looking beyond the basic laws, build on field craft and match management techniques and introduce the concept of working, as a team, with a colleague.
Watch for adverts locally for Face to Face courses – the Blended Learning version will become available in the New Year
Umpire Stage Three – available as Face to Face only at present:
This course is designed for experienced umpires who aspire to stand at the highest level of league cricket and is available to anyone who has attended the Stage One and Two courses or equivalent. As well as the interpretation and application of Law it also covers the management of the match, the field and the players on it. Man management and other practical aspects are also covered. The course will be suitable for those umpires who, although possibly not aspiring to Premier league cricket, still want to develop their skills to be the best umpire they can be.
Supported development for cricket officials
ECB Association of Cricket Officials (ECB ACO) provide ongoing support to help you develop as you move through the pathway in the form of mentoring and coaching.
Aside from the tuition you'll receive on each individual course, ECB ACO provide ongoing support throughout your development as an umpire or a scorer.
These programmes are of interest to anyone who would like their competency assessed against ECB ACOs standards.
Umpires' Support and Development Programme
There are two levels of accreditation – Umpire 2 Accreditation (U2A) following attendance at a Stage 2 course and Umpire 3 Accreditation (U3A) following attendance at a Stage 3 course.
Accreditation level at U2A (or working towards) is a minimum requirement of many leagues and, to be considered for a Premier League, accreditation at U3A is often a necessity.
All umpires can benefit from support irrespective of their experience but for new and developing umpires it is essential. The programme involves the use of experienced umpires as mentors and coaches who can provide encouragement and guidance that will enable all umpires to improve their match management capabilities.
The programme concentrates on self-assessment whilst working with a mentor. Candidates will identify their own issues, understand what they need to do to improve. This will help develop the appropriate strategy to move forward.
Having satisfied your County Development Officer that you have achieved the required certificate you will then receive a Certificate of Achievement.
Scorers' Courses
There are a number of skills required to become a scorer in cricket and we are here to help you get to grips with all of them from the very basics, to advanced techniques. Below is an overview of the courses currently available and how they all fit together.
Introductory Course
The aim of this course is to provide you with the basic skills and knowledge to record a cricket match. It won't teach you everything you need to know, but it will give you the tools and confidence to get started.
Topics covered include: completing a scoring record, recognising umpire's signals, standard scoring symbols.
Basic Scoring (Online Course)
This free entry level course is designed to provide you with all the skills needed to start scoring You don't need any prior knowledge of scoring to participate.
The course covers the basics of scoring a game of cricket such as scoring symbols, umpire signals, dismissals and gives a helpful overview of the Laws of the game.
Club Scorer
How to record a cricket match.
The course for anyone wanting scoring on a regular basis and is the only one to comprehensively teach you how to score. This course is suitable for complete beginners and existing scorers who want to fine tune their skills.
Level 1 – Scoring the Game
Level 1 is open to any ECB ACO member who has completed the Club Scorer course. Not a taught course, this award is attained by scoring a minimum of 10 matches and getting some colleague feedback to go in your scoring portfolio.
When you are ready for a professional discussion with a Scorer Development Observer.
Level 2 – Planning and Preparation
Designed for the experienced club scorer to hone their skills and progress to different formats of the game. This course covers some advanced areas of scoring and focusses on planning and preparation. After attending you will need to score another 10 matches and attend a Duckworth Lewis Stern Continuous Professional Development (CPD) module.
When you are ready, bring your portfolio for professional discussion with a Scorer Development Observer. Successful candidates will be issued with a Level 2 Scorer's certificate.
Continuous Professional Development (CPD) Modules
To advance along the scorer's pathway the following three continuous professional development modules are available to anyone from Level 1 onwards and all carry ECB ACO certificates of attendance.
Duckworth Lewis Stern CPD module
This module is designed to explain the Duckworth Lewis Stern (DLS) method of setting a revised target when there has been a suspension in play in a one-day match. It looks at the brief history of DLS and considers the difference between DLS formats. It includes practical sessions for both DLS Professional (computer program) and DLS Standard (manual calculations). Scorers attending this module will need to bring their own laptop but the DLS professional software will be provided on the day.
Linear CPD module
This module teaches existing scorers how to complete a linear scoresheet, which is an alternative layout of paper scoresheet to the conventional box style scoring record.
The course contains a large practical element of scoring a recorded match, after spending time getting familiar with the new layout of scoresheet. Linear scoresheets make a good back-up system when scoring electronically.
Electronic Scoring CPD module
This module teaches existing scorers how to use Play-Cricket Scorer Pro software package.
To attend this module, you will need to download Play-Cricket Scorer Pro and bring your own laptop along.
The course is a hands-on practical workshop covering setting up and scoring a match, editing entries, printing, importing/exporting and uploading results to the Play-Cricket.com.
Level 3 – Advanced Scorer
Designed for those scorers who have reached Level 2, attended the CPD module in linear scoring and who aspire to score in the higher levels of the game including multi-day cricket.
After attending, you will need to gain multi-day match experience. You will also be required to obtain regular feedback and at least one match observation of your scoring at a higher level to be placed in your portfolio.
When you are ready, you will undertake a professional discussion with a Scorer Development Observer and bring your portfolio for review. Successful candidates will be accredited at Level 3 and issued with a certificate.
Nominations to attend this course are submitted by the Regional Scorer Officer.
Online Resources for all Officials
The Covid-19 situation prompted the Oxfordshire and Berkshire ACOs to work together to produce some additional online material for Continuing Professional Development (CPD) in the form of some educational material in various formats.
Test your umpiring skills
These are a series of self-testing modules to see how good you are at judging Run outs and making LBW decisions.
These can be found at:
https://www.dropbox.com/sh/5xupzi1d3y8xxzv/AADF9qhwKcy8lgXG6pTkZK1Sa?dl=0 – Run outs
and
https://www.dropbox.com/sh/8x87ux5tqcbf464/AAAWPV6me8K3Jie7biiYGbJRa?dl=0 – LBW
Bite Sized CPD
In addition we have produced a series of "Bite Sized" modules to jog memories, maybe provide some new ideas to new and existing umpires and hopefully stimulate some interest in people to joining the umpiring ranks once the current situation abates.
These can be made freely available to anyone with an interest in cricket so please share them far and wide.
Any comments or ideas for new modules will be gratefully received.
These presentations are in the form of a PowerPoint Slide Show and can be found and downloaded from:
https://www.dropbox.com/sh/yh4fbme26ono0i3/AAB2WZ3ObGIWNMkUpmeyvhqha?dl=0
These modules currently include:
Planning and Preparation for a match
Giving Decisions
Positioning
Movement and Positioning
Ground, Weather and Light
Bouncers
Beamers
Injured batsman with a runner
Substitutes and Penalty time
Understanding playing regulations
There is a further presentation with contributions from Elite Panel umpires Richard Kettleborough and Michael Gough on dealing with errors and mental resilience you can see and listen to at:
https://www.dropbox.com/sh/mac108l0ouqbwst/AAA98z4INYiFR1iqlcPdZkC6a?dl=0
For all of the above modules it is strongly recommended you DOWNLOAD them to your computer before playing to ensure good video quality
RunsWktsOvers Continuing Professional Development – CPD for scorers
Although primarily aimed at the scoring community an innovative CPD programme has been launched by Sue Drinkwater, the ECB ACO Scorers Education Manager , using a You Tube Channel. This channel is designed to help cricket scorers learn new electronic scoring skills and practice their craft in the closed season.
Why is this channel called RunWktsOvers? Hint : take a look at MCC Laws of Cricket – Law 3 and see what a scorer should be recording.
Many of the sessions are of great benefit to umpires as well, particular the DL & DLS sessions.
For those VERY keen there is the opportunity to score the 2017 T20 Blast Final online (No you will not be transported back in time).
This is designed to help cricket scorers learn new skills and practice their craft in the closed season.
It is also of interest to non-scorers and in particular umpires.
Sue's introduction can be seen at:
https://www.youtube.com/watch?v=oHg29N8gEMI&feature=youtu.be
and later videos cover electronic scoring, and DLS calculations.