On Saturday (18th September) Oxfordshire Cricket rewarded and recognised over 65 volunteers at the 2021 Grassroots Awards which was held at the magnificent Wormsley Estate. 
Rebranded this year by the ECB, the Grassroots Cricket Awards (formally the OSCAs) looks to recognise and celebrate those who give so much to the game of cricket, to see it thrive in their local area. There are 9 categories that were recognised, with each nominee being rewarded and recognised for their contribution. Oxfordshire Cricket would like to thank Bicester Village, Tite Inn, Serious Cricket, and the Wormsley Estate for supporting the recognition of all the winners. The winners are all listed below in their respective categories.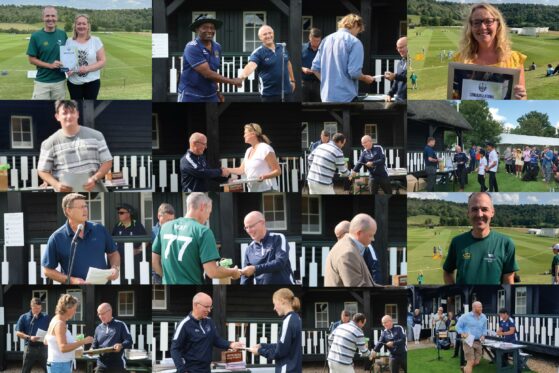 Inspired to Play – An Individual or group within your club or community organisation going above and beyond to open the game up to new audiences.
Katie Harrison

Neil Pickup

Matt Swain
Connecting Communities/Engagement – A Club or community organisation which has gone above and beyond the call of cricket to support communities/groups coming back to the game we love.
Rising Star Award – Young volunteer making a difference – 11 – 16-year-olds
Kaylan Parekh 

Samanyu Shanker

Chloe Westbury

Lottie Oxton

Benedict McGuinness

Jake & Elodie Brown
Game Changer – Young volunteer 17 – 25-year-olds making a difference in the game.
Cosmo Taylor

Jack Lambden

Oliver Badger

Alexander Badger

Isaac Hall

Thomas Lydford-Brace

Nic Pinhol
Unsung Hero – Those heroes who impact our game and help us make cricket happen.  This could be ground staff, coaches, officials, umpires, or other volunteers.
Mark Townsend

Chris Cordell

Tina McNally

Stephen Hibbered

Martin Philips

Richard Parker

Joe Bennett

Mandy Brine

Chris Babbs

Claire & Mat Bowden 

Martyn Cross

Ray Manning

Neil Pickup

Cally Evans

Richard Powell
Growing the Game – A league volunteer, committee member, or administrator going above and beyond to support clubs and help increase the number of games played.
Andrew Hodder-Williams

Lesley Pykett

Simon Brown

Neil Pickup
Lifetime Achiever – That one individual who has given many years of service to your club or community group you could not do without.
Peter Howe

Dave Freeman

Rupert Evans

David Ackland

Ray Manning

Sue Powell
Cricket Innovators – Someone who has brought new ideas and/or implemented new systems to improve your club or community group.
Pete Joyce

Colin Simpson

Mat Bowden

Rob Richardson
Safe Hands – Those key volunteers helping clubs get Safe Hands Management Accreditation
Linda Fathers

Mandy Brine

Adrian Harris

Jack Lambden

Ann Cummings

Paul Duester

Mark Ormrod

Alex Westbury

Clare Woodcock

Sally Townsend

Jill Seaton

Rosie Beck

Nicola Ward

Mark Fransham

Sue Riley

Rosalyn Porter

Natasha Coates

Sue Sumner

Mags Lightbody

Lesley Pykett

Neil Ireson
Burford School Recognition
A plaque was presented to Burford school to recognise the first Boys v Girls match referenced in 1894.
If you were not able to attend Wormsley and are a Grassroot Award winner, please contact Nick Pinhol at NPinhol@oxoncb.com